Journal Entry:
Sat Apr 11, 2009, 7:01 AM
Cowboy Bebop by Sunrise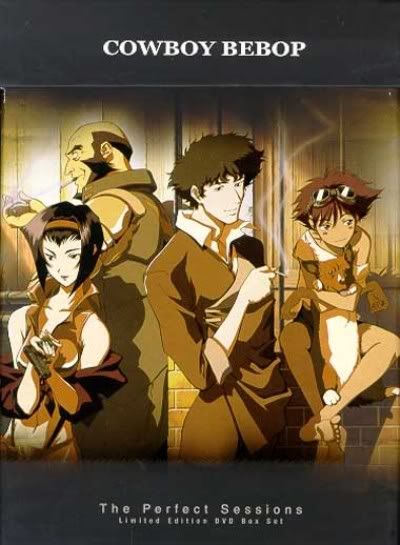 Cowboy Bebop was created by the Animation company "Sunrise" who have a legendary reputation for creating the "Mobile Suit Gundam" series. They always deliver some of the greatest of animes and Cowboy Bebop is one of them. Cowboy Bebop was created in April 3, 1998 and ended April 23, 1999. It is one of the rare examples when an anime excels its manga counterpart in my opinion. Lets get straight to the point one of the core reasons why Cowboy Bebop is so successfully is its genre name. Firstly its a "space western" a combination of old and new genre's and now mix in some of that lovely "Crime Fiction" we all love and that is a recipe of pure excellance. But Bebop is not content to be merely that, so there are added dashes of film noir, gothic horror, creature-feature, black comedy, screwball comedy, spy action, crime, romance, tragedy, action, philosophy, science, spirituality, fatalism, optimism, buddy-buddy stories, slapstick humour, parody-- just about every type of tale under the sun appears in some shape or form during Bebop's run.
Plot/Story (





)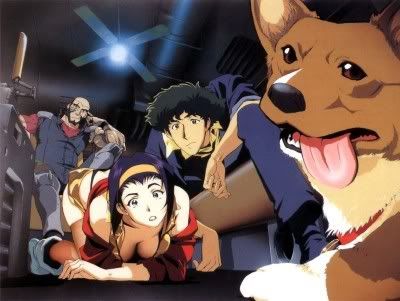 The year is 2021 AD and mankind has perfected its greatest invention the "Astral Gate". These are Hyper Space Gates that allow space travel throughout the solar system at speeds never dreamed of. However nothing is ever perfect and the Astral Gate explodes during an accident destroying a majority of the moon. The debri's of the moon rain down on the earth killing off 4.7 billion of the human population. This was come to known as the "Gate Accident". 50 Years later and the human population is now dwindling at 1.6 billion people, however because earth is too dangerous to live, mankind has left earth and lives in different areas in the solar system through the use of perfected gates.  Which leads on to the main plot of the anime, law and order, well there is none!. With crimincals running rampant over the solar system, the higher ups reinstore the "Bounty System" made famous in the old wild west.This is where Spike and his crew make a living from, they are bounty hunters that race around the solar system in their space ship called the "Bebop" acting like "Cowboys".
Each member of the Bebop of course all have there "dark pasts" its not like they wanted to become Bounty Hunters, its just easy money. The anime explores each characters individual pasts, I mean we see Spike first as a laid back slacker. Well he wasn't always like that, he was once famous in the criminal underworld before he faced a crushing loss. Jet seems like the stuck up authority figure type, well that makes sense seeming his past was to do with law enforcement. Miss Faye Valentine acts like a cunning vixen, but hey she has a reason for being like that being betrayed in her past. Finnally with have Ed, who acts like a monkey who has discovered drugs, but she is a super computer hacker. Oh crap I forgot about Ein who is a Welsh Corgi, though he is a lab experiment. Heh funny how can people with such diverse backgrounds work together as a team? well they don't! that is where the humour shines, and thats why Cowboy Bebop is "amazingly humerous".
Characters (





)
Spike Spiegel:
Firstly, what an awesome name for a character. Spike used to be a key member of a huge underground crime syndicate called the "Red Dragon". When he worked together with his partner "Vicious" they were unstoppable. The only thing that could intervene was a mysterious women named "Julia". Soon love develops between her and Spike, however it is bitter sweet. Spike is now a bounty hunter who is constantly being chased by ghosts of his past. Spike is a specialist of Jeet Kun Do which was inspired from Bruce Lee movies. He is unmatched in a fight of fists, or in the skies as an ace fighter pilot. Heck he is the most skilled gunslinger! being able to hold his own against an army of gunman. He might look cool and laid back on the surface, however on the inside hes a flickering candle flame in the darkness.
Jet Black:
Firstly, what an awesome name for a character. He looks like such a beast just look at those cybernetic implants and that rugged beard. If I was a women I "so would" after Spike of course. Jet used to be a former Inter-Solar System Police officer who was often called "The Black Dog" because of his relentless nature to capture criminals. Heck his cybernetic arm is the reminder that he should never deal in things too deep. Jet is the owner of the "Bebop" spaceship and owns a banzai garden, how badass is that? It is quite amazing how he is actually friends with Spike, they are polar oppisites in ever sense of the word. However you are a bounty hunter, there are no rules, just get the job done. But what is Jet looking for from his past? why it is his old girlfriend, the only women to truly care for "The Black Dog".
Faye Valentine:
Firstly, what an awesome name for a character. Miss Faye is actually an amnesia patient who has lost all her past memories, for about say 50 years? hey! thats when the "Gate Accident" occured!. Catching on? good. She gets dumped in her lap a massive debt left by a deceptive man would cared for Faye, who was actually a con man. With a debt following her to the grave she trys to pay off most of it through gambling. Usually this idea is bad, but do remember, Miss Faye is "Lady Luck" and she has never lost a bet in gambling. Well until the day she met Spike and their confrontation, caused several galaxys to explode in awesomeness lightyears away. Since she was deceived when she opened up her feelings, she has trouble trusting the other members of the Bebop. But when she discovers her past, she just might.
Edward:
From the first look, well it is kinda hard to tell if this person is a boy or girl isn't? well she is a girl. Now you know. She acts like a care free girl even more so then spike. With a mind like a child she spends most of her time playing. However her "brain" is the stuff of genuises because she can hack like a super computer. Want to hack into a military satellite? get Edward, want to hack into a computer bank vault? get Edward, want to hack into a school computer? pfft go do that yourself. Edward is a master hacker and is the main source of information gatherer to the Bebop and essential part to a crew of Bounty Hunters. Now her past can be quite confusing because she is so care free. However she does have a father, she just cannot find him at the moment, and she does not care much lol.
Animation/Theme (





)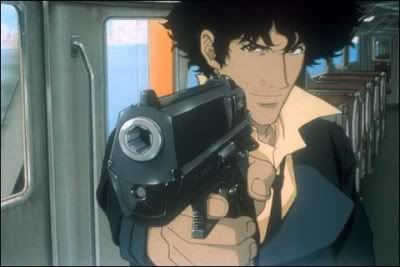 Cowboy Bebop is a "perfect" example of classic animation. Before the 21st centuary and all the bright colours and bold lines in animation, their was "classic" style anime. Cowboy Bebop for its time has been animated wonderfully, the detail is so well smoothed out and clear. The whole anime has a darker tone being set in space, it matches the atmosphere of the anime very well. They are bounty hunters and they do not really live in sunshine and flowers. I was hesitant at giving Cowboy Bebop a 10/10 for animation, but for its style of animation, classic, then I think it deserves it completely. The fight scenes are animated beautifully and it can almost be considered film like animation level. However it is fine as it is, in my opinion there is not much criticism in the animation and could not really be improved.
Music/Sound (





)
When a japanese anime tries to adapt music from foreign counrties instead of its own japanese songs, it does not always work out. However Cowboy Bebop is one of those rare examples because american Jazz is the absolute best, and tottally indiscrible in music terms. Everybody has heard of the "blues" when it comes to amaerizan Jazz, it just basically means when your "down in the dumps" to be simple. And that is what Cowboy Bebop is about, it is humerous and there are alot of smart jokes being cracked. However the characters cannot hide that they have had a dark and sad past. The "Blues" Jazz is just the perfect type of music to symbolise these emotions and it is an amazing syncronisation to the anime flow. Just listen the opening song "Tank" good god it is amazing, jsut listen to those beats! its like we have been transported back in time in the early 1950s in america!. For an anime to use such old yet active jazz music is tottally unheard of!. When we think of anime songs we think high pitched girls singing. No Cowboy Bebop uses quality A music which is pleasure to the ears.
Overall/Closing (





)
Cowboy Bebop is easily one of the best animes I have ever seen. I would like to see one person who has watched the entire Cowboy Bebop series and not say it is great! Such a person does not exist, because when you create an anime on such a scale of brilliance it will be popular to ay sorts of viewers. Cowboy Bebop is a anime where is has a strong theme that stems from america in the 1950s, yet the anime is set in the 2050s!. To have such a perfect match is amazing, each episode is one small story that is perfectly wrapped up at the end with all questions asked. All the characters backstorys are explored fully and brilliantly which is a sign of great character development. Only in the major central plot lines of the anime does it prove its "legendary status" incluing Spike and his backstory. Most people question the ending, do not even utter the ending of Cowboy Bebop in case of spoilers in the comments. However the ending perfectly rounds off the end of one of japans finest animes to date.