Journal Entry:
Sat Feb 6, 2010, 5:34 AM
Azumanga Daioh by J.C.Staff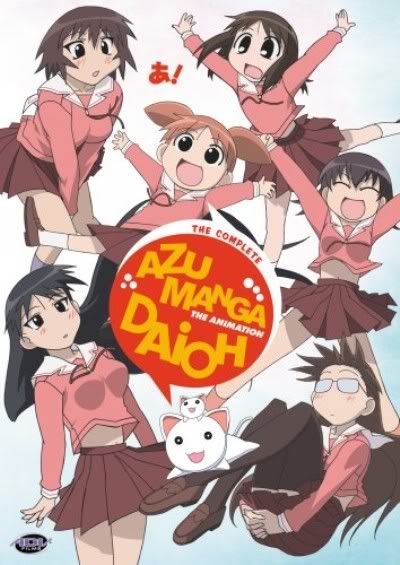 Azumanga Daioh first started out as a japanese comedy manga created by Kiyohiko Azuma. The manga is drawn as a series of vertical four-panel comic strips called "yonkoma" and depicts the lives of a group of girls during their three years as high-school classmates. The manga had ran from February 1999 and ended June 2002 with 4 volumes in total. Then Azumanga Daioh was adapted into a 26 episode long TV Anime Series created by J.C.Staff which ran from April the 8th 2002 and ended September the 30th 2002.
Plot/Story (





)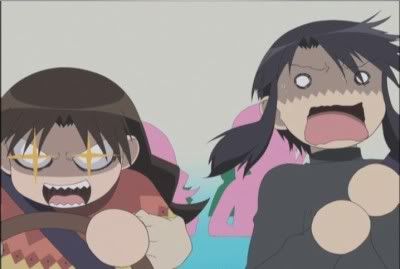 "Azumanga Daioh chronicles the everyday life in an unnamed Japanese high school of six girls and two of their teachers: child prodigy Chiyo Mihama and her struggle to fit in with girls five years older, reserved Sakaki and her obsession with the cute animals who seem to hate her, spacey Ayumu "Osaka" Kasuga with a skewed perspective on the world, Koyomi "Yomi" Mizuhara's aggravation at an annoying best friend, Tomo Takino, whose energy is rivaled only by her lack of sense, sporty Kagura and her one-sided rivalry with Sakaki, and their homeroom teacher Yukari Tanizaki and her friend, physical education teacher Minamo Kurosawa."
So Azumanga Daioh has no central plotline much like most japanese high school manga's where the focus is on school girls. Now people always rate this one of the, if not the best highschool comedy anime because of its intense abnormal craziness. Whether this may be the case or not they were one of the first animes to do it and so this makes it a classic. So of course for plot related purposes you shouldn't really be watching the anime, but the characters interactions instead. However this anime is much more "school orientated" meaning that they will actually show most of all the daily and important tasks a japanese highschool would make the students do, and watching the characters carry them out is where the humour comes in.
Characters (





)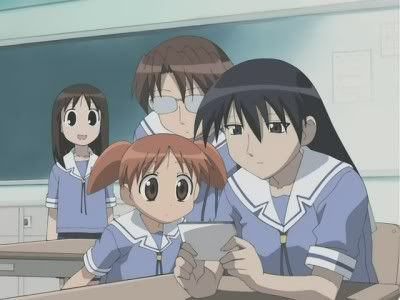 Chiyo Mihama:
She is the main female protaganist of Azumanga Daioh alongside Osaka. She extremely smart, actually a better word to discribe her is a pure genius! at the age of 10 she skipped an amazing 5 grades and so she jumps straight into highschool. However that is not all! not only is she the head of her class but she can even outsmart her home tutor Yukari Tanizaki! However her most odd aspect is that her father is a yellow cat.
Ayumu Kasuga:
Also known as Osaka and by her fans also known as god because she is completely unpredicatable she is the second female protaganist. She is very, very feeble it seems like you just have to bump into her to knock her down, and also as slow as a snail. If you say a joke she will get what it means a week later! However it is this spaced out aspect of her that all her friends admire of her, her complete absence of evil.
Tomo Takino:
Every school anime must have a character who is extremely hyper active and nevers backs away from a good laugh of prank, and that discription suits Tomo perfectly! When things get dull within the group of friends she never runs out of ideas to spice things up! these ussually include hitting people like chiyo, or throwing items at her, or just being a general annoyance to the group keeps her and her friends lively!
Koyomi Mizuhara:
If there is an untamable character within the group of friends, then there must be the responsible older type as well! and that would be Koyomi also known as Yomi. When things get a bit too far out of hand she never hesitates in setting everyone straight and back on track to whatever they were suppose to be doing. However it seems she always has to do this constantly with some friends of the group like tomo and osaka!
Sakaki:
Last but not least just like every group of friends must have every other personality, there must be a character without a personality! and that would be Sakaki, she is very silent but strong and does not have a last name suprisingly. She is the envy of most other students because of her athletic body and her tall height! However what she really desires is cats, she always likes to pet one, at much dismay to her hand that does.
Art/Theme (





)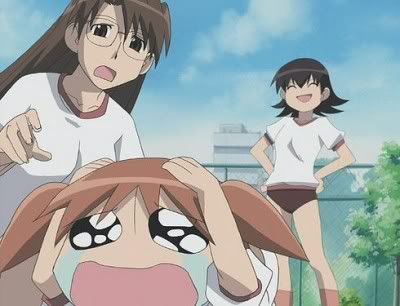 I know animation should not really be much of an issue when it comes to school animes like this, however for an anime that was made almost 10 years ago you can see that his animation style is pretty dated. Now im not saying it needs to be at the levels of high quality animation like Hellsing Ultimate OVA or Basilisk but it should have some bright colours! When watching azumanga daioh there was not as much bright colours in the background as I hoped. Light blue school uniforms with grey classroom walls gives a very soft effect. But the colours should be as vibrant as the opening theme!
The LULZ Factor (





)
Many fans believe that Azumanga Daioh is one of the, if not the most funniest school anime ever made, however I would be in disagreement of that. I believe it is one of the funniest ever made, but no where near the top. The plot leaves little to be appreciated but I can assure you that the hilarity in Azumanga Daioh can reach a side splitting point on some levels! It is mostly to do with the characters interactions as they all have different personalities and trying to even attempt the easiest, most simple tasks can turn out into a nightmare when the most abnormal and crazy things happen to turn the whole situation upside down!
Overall/Closing (





)
I have talked alot about how Azumanga Daioh is not my favourite school anime of all time, well I might as well reveal to you all reading now that is actually school rumble! In Azumanga Daioh there were simply not enough characters that were truly distinguished, it was pretty much Osaka and Chiyo pulling along the anime to stardom and fame. However that does not take away the fact that Azumanga Daioh is an anime about the time spent with a group of friends attending High School. It as viewed a a classic and it can be argued that it started the trend of completely random slice of life highschool animes. Though even after all this I will say it had a very sweet ending to wrap things up forever.